Single Sheave Snatch Type



Technical Specification


| | | | |
| --- | --- | --- | --- |
| Sheave Size Ins | Wire Rope Size Ins | Capacity F. OF S. 4:1 US Tons | Capacity F. OF S. 2.1 US Tons |
| 4 1/2 | 3/8-1/2 | 2 1/2 | 5 |
| 6 | 3/4 | 8 | 16 |
| 6 | 3/4 | 12 | 24 |
| 8 | 3/4 | 8 | 16 |
| 8 | 3/4 | 12 | 24 |
| 8 | 1 1/8 | 22 | 44 |
| 10 | 5/8 - 3/4 | 8 | 16 |
| 10 | 3/4 | 12 | 24 |
| 10 | 1 1/8 | 22 | 44 |
| 12 | 5/8 - 3/4 | 8 | 16 |
| 12 | 3/4 | 12 | 24 |
| 12 | 1 1/8 | 22 | 44 |
| 14 | 3/4 | 12 | 24 |
| 14 | 1 1/8 | 22 | 44 |


Bearings: The 4h" Block is fitted with special bronze bush but can be fitted with taper roller bearings with special bronze bush if requested. Capacity: The 4:1 capacity load given in the table are the maximum head fitting loads that should be applied to the Blocks. These capacity loads are based on a Factor of Safety of 4:1 and the Blocks are proof tested to twice this capacity load. The table also details a comparative capacity load to Factor of Safety 2:1 so that the users may compare the 'High Load' Blocks with alternative makes based on this Lower Safety Factor
Double Sheave Snatch Type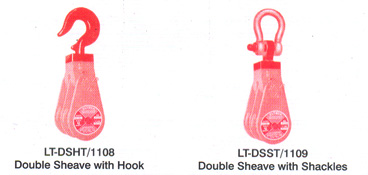 Light weight snatch block as a single or double sheave block.
Drop forged swivel hook or swivel shackle.
Can be furnished with bronze bushing and roller bearings.
Opening features permits easy insertion of wire rope in both sheaves with removal of one bolt. (See picture above)
Can be furnished with hook latch. Pressure Lube fittings.
Fatigue rated.

Note: In the interest of constant research & development we reserve the right to change the design & specifications without notice.