Forged from chrome Molly Alloy Steel Fully heat treated for maximum strength and safety All' High Load' shackles are individually tested and stamped with the safe working load.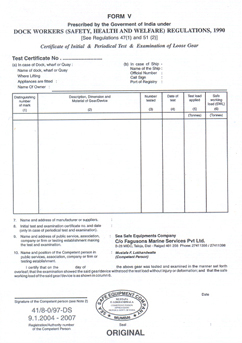 Manufacturer' work test certificate is provided along with all our supplies, however certificate as per Dock Workers (Safety, Health & Welfare) Regulation 1990 on From - V, if required the same can be provided at extra cost. (i.e. enclosed format) Our Workshop is approved by the Inspectorate Dock Safety, Govt. of India, Ministry of Lab our and we are authorized to issue certificate signed by our approved competent persons under the above provision s.

The above Shackle are hand forged by experts Blacksmiths and the dimensions referred above i.e L&W should be accepted with slight tolerances.
SWL Tonnes
Body Dia. d
Pin Dia. D
Inside Length L
Inside Width at Pin W
Inside Width at Bow
Approx. Wt. each Safety Pin lbs kg
Approx. Wt. each Screw Pin lbs kg
2
1/2
13
5/8
16
1 5/8
41
1 3/16
21
1 5/16
33
0.8
0.4
0.7
0.3
3.25
5/8
16
3/4
19
2
51
1 1/16
27
1 9/16
40
1.6
0.7
1.3
0.6
4.75
3/4
19
7/8
22
2 3/8
60
1 1/4
32
1 7/8
48
2.7
1.2
2.2
1.0
6.5
7/8
22
1
25
2
1 7/16
37
2 1/8
54
3.7
1.7
3.2
1.5
8.5
1
25
1 1/8
29
3 81/16
1 11/16
43
2 3/6
60
5.4
2.5
4.6
2.1
9.5
1 1/8
29
1 1/4
32
3 9/16
90
1 13/16
46
2 8/6
67
7.4
3.4
6.7
3.0
12
1 1/4
32
1 3/8
35
3 15/16
100
2 1/32
52
3
76
10.4
4.7
9.0
4.1
13.5
1 3/8
35
1 1/2
38
4 7/l6
113
2 1/4
57
3 3/16
84
13.5
6.1
12.2
5.6
17
1 1/2
38
1 5/6
41
4 7/8
124
2 3/8
60
3 5/8
92
18.5
8.4
16.4
7.5
25
1 3/4
44
2
51
5 3/4 
146
2 7/6
73
4 5/16
110
28.5
12.95
25.5
11.6
35
2
51
2 1/4
57
6 3/4
171
3 1/4
83
5
127
41
18.6
36
16.4
50
2 1/2
63
2 3/4
70
8
203
4 1/2
105
6
152
91
40
74
33.6
75
3
76
3 1/4
83
9
229
5
127
6 1/2 165
124
56.4
NA
100
3 1/2
89
3 3/4
95
10 1/2
267
5 3/4
146
8
203
219
99.6
NA
150
4
102
4 1/4
108
1 21/2
317
6 1/2
165
9
229
311
141.4
NA
200
4 3/4
121
5 1/8
130
14 1/8
359
6 7/8
175
10 1/4
260
451
205.0
NA
NA - Not Available