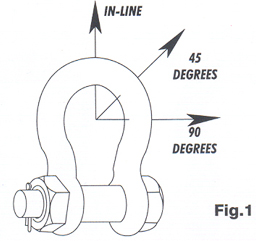 Side Loading Reduction Chart For Screw Pin and Bolt Type Shackles Only †
Angle of Side Load from vertical In-Line of Shackle
Adjusted Working Load Limit
0 from In-Line*
100% of Rated Working Load Limit
45 from In-Line*
70% of Rated Working Load Limit
90 from In-Line*
50% of Rated Working Load Limit
* In-Line load is applied perpendicular to pin
DO NOT SIDE LOAD ROUND PIN SHACKLES
Never Exceed 1200 included angle.
Use Bolt Type and Screw Pin Shackles ONLY.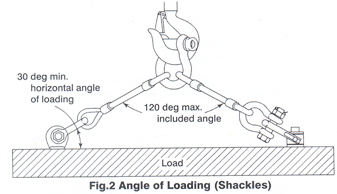 Shackles symmetrically loaded with two leg slings having a maximum included angle of 120° can be utilized to full Working Load Limit.
| | |
| --- | --- |
| Horizontal Angle, deg | Stress Multiplier |
| 90 | 1,000 |
| 60 | 1,155 |
| 45 | 1,414 |
| 30 | 2,000 |

OPERATING PRACTICE
a) Shackles having suitable characteristics for the type of sling, load, hitch, and environment shall be selected in accordance with the shackle manufacturer's data.

NOTE: The angle of loading affects the stress in the shackle. As the horizontal angle decreases, the stress increases in the shackle.

b) The rated load of the shackle shall not be exceeded.

c) Shackles that appear to be damaged shall not be used until inspected and accepted as usable.

Cautions to Personnel a) All portions of the human body shall be kept from between the shackle, the load, and any other rigging during the lift.
b) Personnel should stand clear of the suspended load.
c) Personnel shall not ride the shackle.

Storage & Work Environments
a) Shackles should be stored in an area where they will not be subjected to damage, corrosive action, or extreme heat.
b) If extreme temperatures or chemically active environments are involved, the guidance provided in paras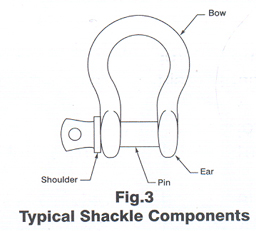 RIGGING PRACTICES
a) The screw pin shall be fully engaged, with the shoulder in contact with the shackle body, (see Fig. 3)

b) If shackle is designed for cotter pin, it shall be used and maintained in good working condition. Alterations or modifications shall comply.

c) Contact with sharp edges that could damage the shackle should be avoided.

d) Shock loading should be avoided.

e) The load applied to the shackle should be centered in the bow of the shackle to prevent side loading of the shackle.

f) Multiple sling legs should not be applied to the shackle pin.

g) If the shackle is to be side loaded, the rated load shall be reduced according to the recommendations of the manufacturer or a qualified person, (see Fig. 4).

h) The screw pin shackle shall not be rigged in a manner that would cause the pin to unscrew.

i) For long-term installations, bolt type shackles should be used; if screw pin type shackles are used, the pin shall be secured from rotation or loosening.

j) Shackles should not be dragged on an abrasive surface.

k) Multiple slings in the body of a shackle shall not exceed 120deg included angle.

I) When a shackle is used in a choker hitch, the pin shall be connected to the choking eye of the sling.


| | |
| --- | --- |
| Side loading Angle, deg | % Rate Load Reduction |
| In-Line (0) to 5 | None |
| 6 to 45 | 30% |
| 46 to 90 | 50% |
| Over 90 | Not recommended to load in this condition. Consult |
WIRE ROPE SLINGS AND CONNECTIONS TO FITTINGS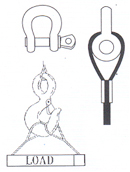 Use A Thimble To Project Sling And To Increase Residual Life Of Shackle
Never Place Eye Over A Fitting Smaller Diameter Or Width Than The Rope's Diameter

Eye Over A Fitting Smaller Diameter Or Width Than The Rope's Diameter Point Loading Or Eltech Shackle Bows Is Acceptable Point Loading Of Eltech Shackles Pins Is Acceptable As Long As Load Is Reasonably Centered On The Pin.