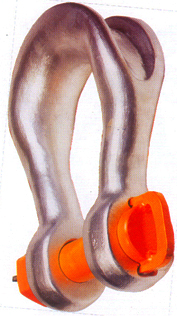 Capacity 400 tons thru 1500 tons


Safety Factor = 5
Certificate; traction test: -2xW.LL.upto300T.
-1.33xW.LL.upto1500T.
Embossed marking in the bending: LE BEON & WLL Material: Forged alloy steel for all W.L.L.
Finish: Galva paint on bodies and orange paint on pins.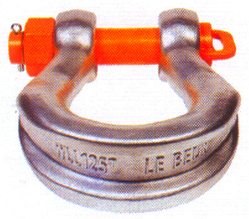 Capacity 75 tons thru 350 tons
ABOUT QUALITY CONTROL
* All material is checked by Ultrasonic Inspection.
* A manufacturing report is made for each product that follows all production steps.
* All products are 100% Proof load tested. Also breaking load test is made of every 25 pieces on Forges LE BEON
2.200 Metric Tons Test Bench.
* Ultrasonic and Magnetic Examination is made before or after proof load test, based upon client's request.
* All Products are trial fitted with sockets and end link chin guages.
* Finite Element Analysis and Fatigue Damage Calculation can be made upon client's request.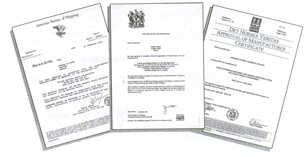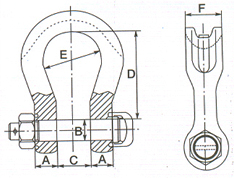 Bolt type anchor shackles with thin head bolt-nut with cotter pin RR-C-271